On February 2nd,

Chicago DSA

held its second Day of Action for our five endorsed city council candidates themed around

#Sanctuary4ALL

20th Ward – Jeanette Taylor
25th Ward – Byron Sigcho-Lopez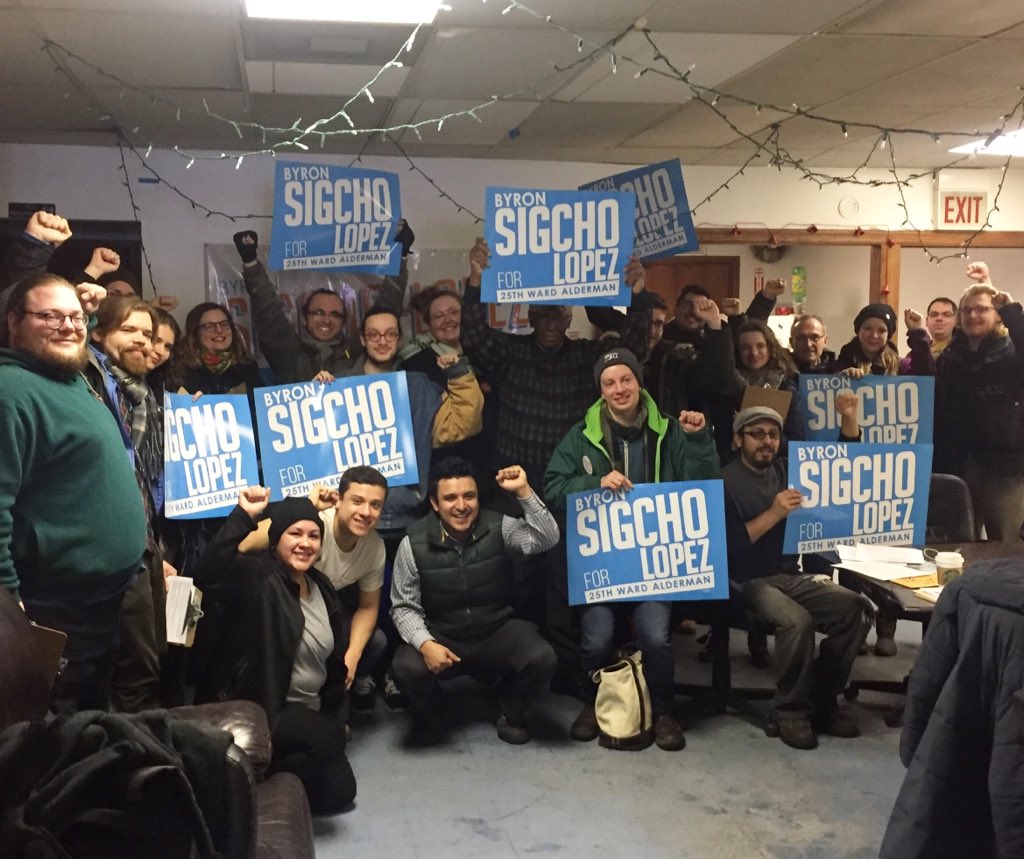 33rd Ward – Rossana Rodríguez-Sanchez
35th Ward –  Carlos Ramirez-Rosa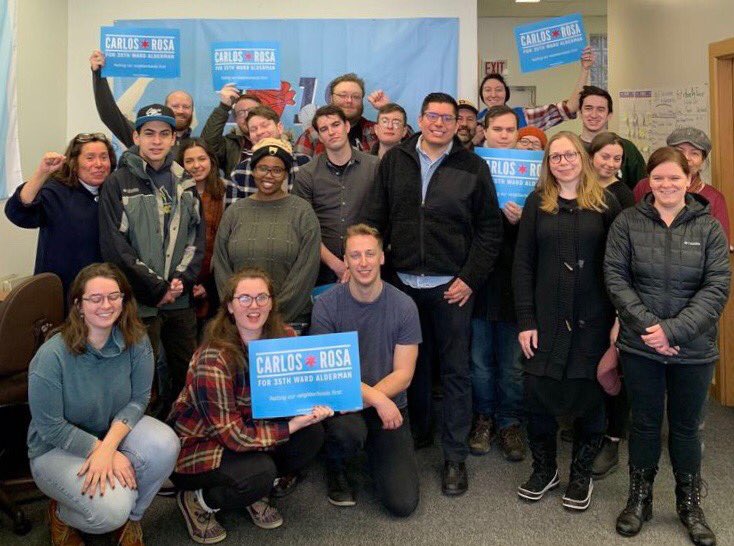 40th Ward – Ugo Okere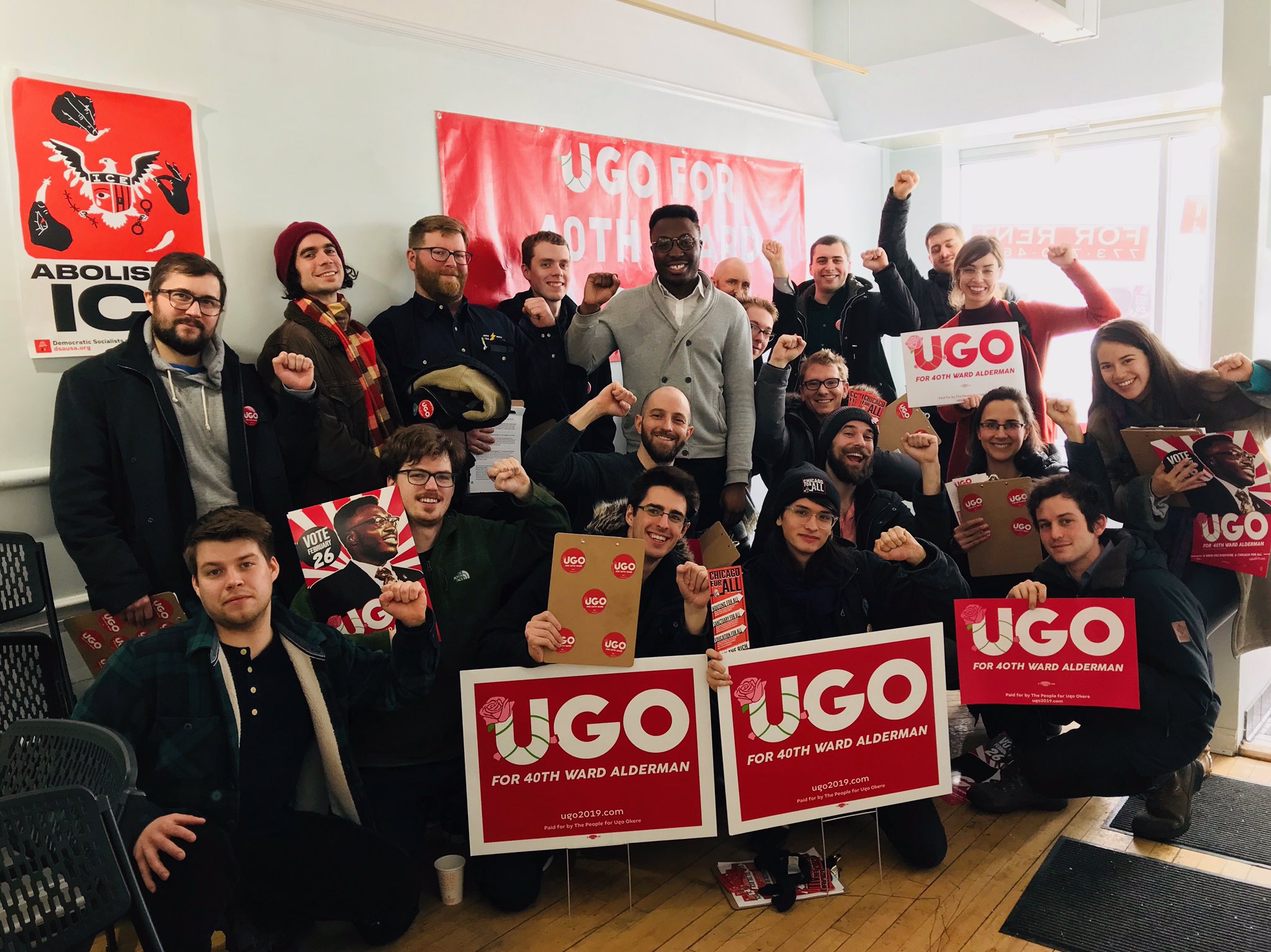 #Sanctuary4ALL
As socialists we demand the decommodification and democratization of sanctuary, and we fight to:
Stop Racial Profiling and Erase the Gang Database
Empower a Civilian Police Accountability Council (CPAC)
Abolish ICE and Stop Deportations
#NoCopAcademy
Expand and invest in Mental Health Services
Sanctuary For All

means people from all backgrounds being safe when you walk down your street. Whether it's from being picked up by ICE, or harassed by a police officer, or any other authority figure. It means de-militarizing our police, having authority over them as a community, and no longer giving them the tools to intimidate our most at-risk neighbors—whether in the form of weapons, political protection, tools to track us, or training to control us.
We define 'Sanctuary' as freedom from harm. In particular, harm perpetuated by the capitalist state, which uses its monopoly on the legitimate use of violence to enforce private property rights. 'Sanctuary' has become a luxury, afforded only to 'legal residents', and of them, only those who can afford to live in a neighborhood deemed worthy of investment.
The working class is starved of even the most basic resources needed to survive, and the erosion of social welfare and public programs leaves 'crime' as the alternative for survival. In Chicago, this is illustrated most revoltingly by the regime of Rahm Emanuel, who after closing over 50 schools and half of the city's public mental health clinics is now ending his tenure as mayor with a CPD hiring surge and with the construction of a 95 Million Dollar Cop Academy in West Garfield Park.
Chicago Alderman have prioritized policing over services like education, healthcare, and infrastructure. Chicago spends nearly 40% of its budget, that's $1.5 Billion a year, on policing. That's three times as much as we spend on the Department of Public Health. They need to be held accountable for this police state vision, and knocking on doors supporting candidates who feel the same way as we do is one way of doing that.
DSA candidates are running to build a Chicago that is truly a sanctuary for all, that means everyone should feel safe and live with dignity. This entails police oversight and reform, the abolition of ICE, as well as affordable housing for all. We have a unique opportunity in 2019 to elect a socialist slate to City Council that will fight against corporate greed and machine politics and help us build a

Chicago For All.



---


The Chicago For All platform was drafted by CDSA's Electoral Ad Hoc Committee
in collaboration with each of the endorsed campaigns. Special thanks to MIA from the Communications Committee for designing the platform lit that we've been distributing across the city on our Day of Actions.
The #Sanctuary4ALL Political Education program was developed CDSA's Anti-Racism working group.

CDSA has one more Day of Action planned for our candidates on Saturday, February 16th themed around

#Education4All.

We'll also be mobilizing our members for a mass GOTV on and leading up to Election Day.
Sign up now to get involved in our campaign to elect a Democratic Socialist Caucus to the Chicago City Council that will push for a #Chicago4ALL instead of one for the few!